Oh, and isn't this a great time of the year; politicians getting stupider with their declining popularity ratings; pent-up shmucks blowing a fuse over the mere structure of their genitals. It's really a great fucking time of the year, when every fuck-wit is torching brain cell after brain cell over trivial issues, such as national anthems, or awesome movies for that matter.
Yeah, I heard that a whole group of conservative reactionaries were expressing their outrage over the blasphemy of the ever so awesome movie adaptation of, The Da Vinci Code. There's no day that isn't complete without a group of zealout believers, defecating themselves right through their own diapers over some factor of entertainment media and pop-culture, which really shouldn't bear much on their inner faith, but clearly, that is not the case. Now, on that note, I think this movie's great; it was such a cultural phenomenon that I ordered myself multiple copies! Respect your religious code? Why the fuck should I? It's your religion, and your code of principles to acknowledge and impose onto your own kind! Where does my disbelief mandate me to bind myself to the same dogma? Huh? The whole idea of not being associated with a given dogma, means that I don't associate myself with its principals, code of conduct, respect, etc.; the tenets don't attach do the non-believers.
"Why don't these idiots get it? I've made a denigrating franchise out of conservative Moslems demanding to live under their own asinine belief that the non-believing world should somehow, magically, believe in, and abide by their religious codes! Those codes don't attach to the rest of the world, the atheists and whatnots. Now I resonate the same outcry over the western conservative reaction. It's our blasphemy to enjoy, and yours to interpret. No offence, monkeys, but a whole part of that diatribe about not believing in your linear dogma, entails the idea of not giving a rat's ass about the given dogma's code of conduct! If we don't believe in it… we don't believe in the respect that it so officiously commands. So you know what, hypocrites, try to stand by that freedom of yours for once, and suck it up! Some of us enjoy such movies, and if it bothers you, go move to Iran - lots of stuff getting banned there!" - Closure.

The Da Vinci Code is a fuckin' phenomenon; excellent piece of artistic culmination. Interestingly enough, the stupefying reaction from the far-right, makes this phenomenon, all the more cultural and profound; way to go, dumb fucks! Just relishing the uptight dismay in your fascist, and heavily suppressive contentions alone, enhances the phenomenal enrichment, ten-folds. Therefore, once again, I would like to reiterate; way to go, dumb fucks! The humour of stupidity would be no where without you witless connoisseurs of misery.
"Now, start the movie!" - Immediate demand.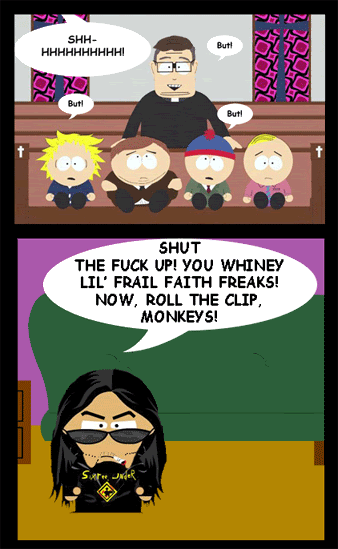 "Aieeeeeeeeeeeeeeeeeeeeeeee! My faith! It's melting! A fuckin' movie is melting my faith! Aieeeeeeeeeeeee!"
Your faith? Right... Get bent!
"O~oh! But it stings my faith! It's hurtful to my belief system!"

That only calls for these morons to get their own faith reinforced; me living in celebration of my disbelief is also a threat, technically - they ought to live with it, because their faith ought to be stronger than that. These specimens of human ignorance should stop ruining my good entertainment, every time some kind of artistic venture starts to cramp or challenge that ever so sensitive faith of theirs... the sad, weak-minded shmucks. This isn't about religion so much as it is about a group of nimrods who find their genitals catching fire everytime something doesn't confer to the tenets of their religion - this is about morons who have such weak faith in their belief-system that mere movies get their undergarments in a knot. "Not all of us are shackled by your dogma! Now get over it!" I say, once again.
So until next time, stay cool, stay calm, and don't start any fuckin' political angles against my choice of movies, you sensitive fuckers.
Later,
Kade
Just for the laughs; I don't even consider this worthy of being considered bibliography shard… Heh, the stupid premises that people often commit themselves to:
http://www.tfp.org/davincicode/organizers_kit.htm