Alrighty. If brain fucking myself wasn't enough, I end up getting sucked into one of the most linear, asinine debates about the whole immigration crisis in the US. Yes, we'd be speaking of the country that was considered a haven for most, in essence; a country founded on liberty and immigration. No, I don't wanna' get into an argument over the legality that drives the conservative contention on the matter; modern-day regulations have made the process practically a hundred times harder - thus the illegal immigrants. I only managed to develop a beef over one particular point of view, which I've been hearing for a long time.
"America is the white man's land!" - Some of these freaks argue; it frightens me to know that such people actually exist in the modern world. Kinda' like Hitler's mixed-breed ass, moaning about Aryan supremacy; and let's not get into the true essence of the Aryan race!

You see, now, it's that kinda' shit that just forces an opinion out of my generally passive ass! I am just tired to the bone with people who seem to mooch off their skin colour; a trait that the cockmunchers didn't earn so much as they did, inherit through no fault or effort of their own. However, all this contempt is moot, anyway, because in the realm of solid intelligence and critical thinking, ethnic stereotyping can only be considered relevant for the occasional profiling in times of chaos.
Saying that a certain land is white-man's land; or brown-man's land, is fuckin' stupid, and perpetuating that stupefying notion is an even bigger cause for shame. So I got certain kinda' ethnic blood in me; does that mean I am destined to behave in conference with the ethnic culture? Fuck no! I behave like an uncultured, poorly mannered loon, with no religious dogmas or officious bonds--I don't need some whinny, high school punk, telling me where I belong. I belong based on my social and cultural values; not the colour of my skin - this was America, folks; a land where people realised a free ideology as opposed to being pigeonholed - categorised - limited - stereotyped. So yeah, to see actual Americans moan about colorized elitist logic and demanding dibs on a land that was founded on true tenets of freedom, is but stomach turning to begin with.
Your fuckin' skin colour, means shit to me! Seriously, it means shit to me! I know an ethnically pure German family, who're staunch Moslems. Their kid, who looked like a German adolescent, went onto grow a beard, and began ranting on and on about the greatness of Islam, which would piss the listeners off to no end. "Oh doi! But he's white! He should be in America!" some extremely dumb fucks might argue, and if he should be, then I hope he moves right next door to one of these cocksuckers, so he can impose his religious dogmas on them, daily. Trust me, he isn't gonna' be gettin' along with a majority of his neighbours in the land of the free.
"Yeah, so each of these racist fucks can realise that one's psychological conditioning and culturing determines whether or not they belong in a certain environment, more so than the colour of their skin, within the same general race. Because, oh fuck, news flash, fuckers! WE'RE ALL FUCKIN' HUMAN! We can breed together, we have the same chromosome count -- though I am starting to doubt the count for these twits suffering from racial myopia -- and we share the same human genome! This is just getting fuckin' retarded! Because some of these racists are now justifying their racial-supremacy ideals through a twisted analogous version of social ecology! We're different members of the same fuckin' species! It's just the bigoted morons who've decided to mark sub-sects within this species, which is still the same fuckin' species to begin wtih, you stupid fuckin' numb-nuts!" - Urgent bitch!

[Another Southpark Storm venture, powered by the awesome,
Southpark Studio
.]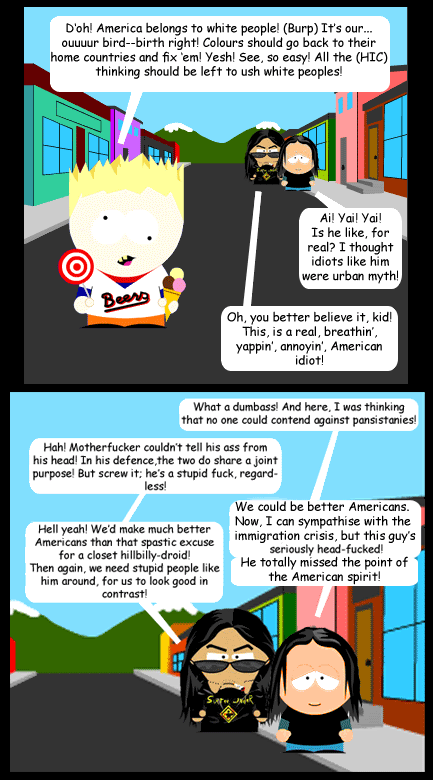 Damn, it felt good to get that out of my system, because I'll be damned if some snot-nosed twit, who hasn't experienced an ounce of struggle because of his race, goes on to determine where each race belongs. No one should get to determine another's place based on race, especially not someone who hasn't even earned his own place or colours to begin with.

"Oh, but Kade! Cut 'em some slack; most of humanity cannot express an actual opinion without resorting to poor choice of words. You were most probably misled! These supremacists -- as you might view them to be -- must be referring to those that plan on parasitically growing their own culture into the neutral and free American spirit." - Critique.

Yes, I fuckin' get it, hotshot! After all, I was the one complaining about all these British Islamists who'd moan against British culture and values. However, you don't see me despising them for their colour; I despise them for their need to impose their values onto others, especially when they have the invaluable luxury of residing in a country that thrives on breathing space for all, and no real culture or dogmas being imposed--that should be my haven, damn it! You see, that doesn't mean that Britain is a white person's land; it simply means that it's a land for the relatively passive individuals, and freedom loving secularists - it says nothing about the skin colour.

In a similar respect, I believe America is a domain for individuals who can appreciate true American values and spirit; this isn't something exclusive to the white skins, and there's millions, who're living proof of my contention, myself included. In terms of regard for personal and civil liberties, I am more libertarian than most Americans, even, so hah!

"I despise these enemies of western humanism and secularity, because of their own officious spirit and barbaric culture. I only resort to grouping people, when dealing with a twisted, vicious, and perverted ideological quirk, which can come in any skin-tone; any gender; any costume--I group them according to a sick, common-mentality." - The sound, but blunt logic.

This not about racist agendas; and here's the interesting thing; quite a few of the people bringing up the complaints against racial implications in the protest over the immigration bill, are in fact, the supremacists who desire their states to be exclusive to whites, especially in the context of political power and stroke. Sure, they have a right to their opinion, but if such people start determining the ways of the world, we're all royally fucked; white folks included. These people are not much different from the psychotic theocrats sitting in the Islamic dictatorships; they're only loyal to a different colour and ideology, that is all. Many of the apologists of this sick ideology say that the immigrants should go back to their homelands and fix the issues.

"How the fuck do you fix decades of social, and economic backlog? Eh? C'mon, genius! If your Einstein ass is so adamant on changing entire group psychologies, then YOU move over and dedicate multiple generations of painstaking effort into such reform. Try dedicating your closet existential life to something that you'll never even fully realise in your own lifespan! Yeah, easier said than done! Very easy to point the finger, but not to offer a proper helping hand. I am really tired of these morons, and their asinine rhetoric! You wanna' determine what does and does not belong in America? Then stop bitching about races, and start dumping out these supremacists and ideological bigots, who're the exact same thing the original American values set out to denounce with a passion. Fight the enemies of the values, rather than the skin colour of random motherfuckers! This goes for both sides of the spectrum; those that wanna' impose their foreign dogmas; and those that wanna' homogenise the US spirit under one exclusive race. As for my stance on the bill - fuck you; I am so outta' this! It's become exactly what it was destined to become: A hotbed for controversy and subtle, political agendas." - Closure.

Why the fuck do I get into these things!? Anyway, stay cool, and stay enlightened, you crazy fuckers!

Cheers,
Kade