The freakish piece of news, today
:
A child was heard screaming; when someone went over to help her, a massive stampede ensued leaving around twenty-six, dead, and over seventy, substantially injured from the fray. Of course, this took place in Karachi, Pakistan, during the celebration of the birth of their prophet, Mohammed (For more information, go to CNN.com's coverage of the news).
"Oh, golly, Storm! So does this mean Mohammed's an Aries?" some fuckwits might question, and all I gotta' say is that such ignorance borders on being downright scary. Just shut up about the horoscopes; I couldn't give a shit about the Zodiac signs, so just shut it; the point is being evaded.
Now, I am not being a rhetorical bastard; I want real answers. How the fuck does a stampede ensue? How the fuck do these idiots -- over a child falling/screaming/tossing about, and another woman offering help -- go all ape-shit like a bunch of lobotomised bulls, high on viagra. Why do people insist on miring actual religious gatherings in the name of grand prosperity, by endorsing potentially fatal and chaotic gatherings to begin with? Stampede… shit! This is the kind of stupefying bafflement, committed by animals.
Is it not possible to achieve an actual religious-ceremony in these regions, without inciting a subhuman brand of erratic hysteria? Pfft, certain things are beyond the realm of possibility, at the moment; let's not forget - this is the same kind of populace that believes that heathens, pagans, and apostates deserve to die for their beliefs. Therefore, I think it does make sense; stupid fucks think that Abdul Rahman should be executed for converting to Christianity; similar brand of idiots go into an animalistic frenzy over a child screaming and another hunching over to offer help, causing massive stampede, and costing the lives of about thirty women and children - pathetic.
Besides, just imagine a stampede of beings, doused in that obnoxious attire of long-black, full-body covering cloaks - daunting!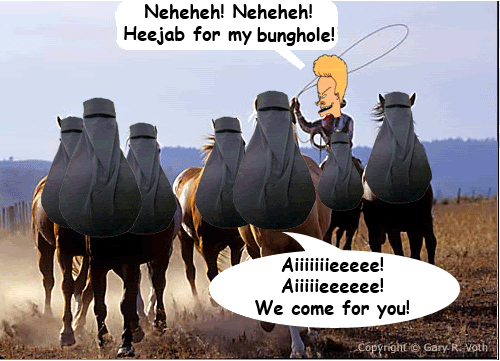 …creepy. Alrighty; bad jokes and horrid imaginary thoughts aside!
Y'know what; gatherings should be spared for the remotely intelligent; having opposable thumbs, doesn't justify one to prance about with the IQ of an amoeba.
…stay normal, or get normalised, if the concept's still new, you crazy fuckers.
- Kade