I've been receiving some grilling recently - no, shut up - I mean grilling on a particular matter, not grilling in general, because that is a common occurrence when it comes to my existence, of course. So I got grilled recently, by a friend, over a joke; he thought I got too prickly over a joke about Sharia law. However, this was just the tip of the iceberg, as up until the recent couple of days, another online friend o' mine also noticed my agitated response to another joke regarding Sharia law and the Al-Queeda.
You see, a bunch of us folks on this hidden forum - not really hidden, but I am not telling - were joking about shit, when one of the sharp lil' younglings came up with an idea about a new cereal, which would be called, Al-Qaeda Krunch! Yes, a cereal crisp, specially crafted into caricatures of top Al-Qaeda monkeys in expressions of agony as the modern-day zealots spitefully consume their toon-mocks. Now, my immediate response was a cringe, followed by an outburst; I had totally missed the point, because there's little humour that I can derive from the mention of these cocksuckers, known as Al-Qaeda, or for that matter, any of their extremist counterparts. And just when my reaction was simmering down, another dude who reads this blog, by the way, decided that we should create the Sharia Krunch; this is when I seriously lost it; I probably blew out a dozen fuses in my head, but it was all good.
I would like to offer a humble apology, I think I have suppressed my ability to enjoy a good thing; passion and hatred can often consume, especially when it's passionate-hatred that we're forced to cope with. I was being uptight towards both parties, even telling one of 'em to never joke about such issues. I acknowledge that I was being a stuck-up prick, and there's no excuse that I can make for that, other than attributing the folly to my own blundering powers of anger management. Now acknowledging that flaw, I will also go on to appreciate the humour, and offer some realistic critique, because people, I did find one little hole in the entire notion.
I can see the humour over Osama Bin Laden, in the form of a fuckin' crisp, being devoured - I myself would never put his disgusting caricature in my mouth, however, but I can identify the humour. Al-Qaeda Krunch - yeah, even has a dandy ring to it; I'm laughing as we speak. But Sharia Krunch? Nah! I am not being a touchy prick on the matter; I really don't think Sharia would make a good Krunch spin-off. You see, why aim for one type of product, when you can effectively have two? You see where I'm goin' with this? Hell yeah! Sharia the toilet paper - it's like wiping your ass with a thousand year's worth of inhumanity, responsible for destroying the mentality and intellectual fortitude of almost an entire race of people. Now that makes sense. Al-Qaeda Krunch for the bowel movement, and Sharia TP for your bunghole!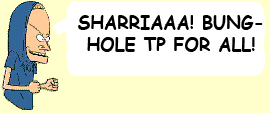 "I think Beavis will really heart that one! Bahaha! TP for us all?" -- Immediate thoughts.

You see, in closing I will take one more serious pot-shot. I read on many of the primary news websites that many Afghan clerics had protested Abdul Rahman's release, obviously. I had also read news about many of them, writing letters to the Afghan government, insisting that the west be kept from interfering with their way of life.
"So let me ask you closet-sodomites this: What the fuck, exactly, is your way of life? Murdering someone for exercising his or her human rights? Killing a given man for exercising his freewill and utilising his right to choice? So you don't want the west to basically stop you murdering cocksuckers, from perpetuating your barbaric rendition of a murderous paradigm?" -- Rhetorical question, don't want answers - just want these cocksuckers castrated, right now!
Seriously, folks, we have a substantial bit of the western world, arguing that actual convicts - rapists - killers - mass-murderers - be spared the fate of death; that the death penalty should be abolished. Yet we're allowing these fanatic-cocksuckers to exist? We're allowing their filthy abomination of a culture to perpetuate its malignant presence in a world that values human rights - a world that they as a cultural-tribe, cannot, and will not get along with? What the fuck, man! So in this world, as we know it today, you have these bastards, who are killing-off perfectly good, clean individuals, for exercising freewill over their personal lives, under the justification of a culture; meanwhile, rapists, murderers and psychopathic thugs are actually getting the attention of the humanitarians, who insist that they be spared the fate of death. No, I am not trying to get into a pro or anti-death penalty debate… I am not one for celebrating death and vengeance, either. However, allowing a culture, and people, who actually sanction death on other individuals for exercising harmless choice over their personal beliefs and way of life, is fuckin' sick, and demands immediate attention!
"So these motherfuckin' pricks don't want the west to interfere in their ways? Why don't they fuck themselves with a steel-pike, and then spew blood from their mouths! That west was interfering, much to Rahman's own consent; and because these savage cocksuckers were interfering in HIS personal choice and rights to hold a harmless and strictly personal belief! These fascist-whores wanna' denounce the act of interfering? Maybe the crazy sods should learn to fuck off and not interfere in the lives and well being of each individual!" -- More bitter rhetoric.

I decree that the west should interfere, and before abolishing death penalties for actual criminals, it should focus on abolishing the cultural and legally justified death penalties being handed out by these other criminals of humanity, executing innocents for exercising their essential rights. I personally say that advocates of this savagery, should either be neutered, or locked away in a giant satellite and shot off into one of Venus' Lagrange points.
"Fuck these psychotic cultures! What do you think, oh exalted Beavis?"

Bahahaha! Stay cool, fuckers.

Cheers,
Kade