"I'm going to throw you out of Venezuela if you continue provoking the Venezuelan people." Said Venezuelan president, Hugo Chavez, during a public address, directing his scathe towards the American Ambassador.
Woah! Dude! C'mon! Where's all that leftist progression that I keep hearin' about?
[Chavez condemned the crowd of protesters for pelting U.S. Ambassador William Brownfield's car with eggs and tomatoes, saying his government "rejects any kind of aggression."]- CNN.com.
Oh, right! There it is; thought I was loosing my mind there for a moment. A so-called socialist hero, behaving like… hey! What gives? This is a contradiction! The dude condemns 'any kind' of aggression, right before blatantly threatening the US Ambassador, and telling him that he'll throw him out if he provokes the Venezuelan people; interesting, yet subtly bold brand of hypocrisy. What the fuck, man? So in all probability, blatantly condemning the ambassador in a public address, and sending chastising contentions on throwing him out, almost as though he's a fuckin' child, doesn't fall under any kind of aggression.
I'm sorry, fuckers, but I heard the address; the translation sounded fuckin' hilarious, but unfortunately, it wasn't my evening sitcom, it was an actual public address, and it sounded aggressive. Oh, and what was all the testosterone sewage being spewed for? Take a look at the following quote, courtesy of CNN.com.
[In the incident Friday, Chavez said Brownfield failed to advise the
local mayor's office or the foreign ministry of his travel plans.] - CNN.com
"Those evil, evil, eeevul dips! Always prancing about without informing authorities about their itinerary; the nerve." - Immediate sarcasm.


"Mister, mister… that big bad ambassador is provoking me by casually moving through my district in his car!" -- For fuck's sake people, is this a country we're talking about, or in fact, some kind of nation-sized, twisted asylum? So this is the act that had Chavez virtually taunting the American ambassador like some kinda' child who'd knocked a ball through Hugo's bedroom window. This, was the big bad provocation; please, don't fuckin' kid me. Oh, and don't let this little opinion digress from the real issue; Mister Chavez very openly denounced any kind of aggression - yet he chose to get all godfather-like on the American ambassador during his public address.
"Nyaa! You mess with my people, see! Nyaa! I'm gonna' toss you out on your keister, nya! You fondle around my back yard, and mess with my people? I'll toss your bovine-bum, outta' here, nya! I reject any kind of aggression, nya! You've been a raunchy lil' brat, nyaa! I'll kick you out, nyaa! Oops, contradiction, nya!?" - Closure, and mockery on the matter.


Please, I have no axe to grind with Chavez; however, I am just getting a tad bit tired of the covert duplicity that has become mandatory practice for most political heads, these days. Fact remains; when you make the public contention of rejecting any kind of aggression, you then put some kind of effort into monitoring the verbal aggression slipping from your own tainted lips! It's just not the thing to do in the political field; politicians are supposed to be more deceitful than that; Chav, dude, you disappoint me!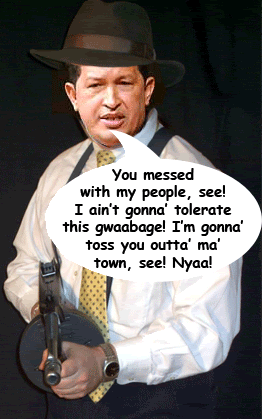 Oh, fuckin' hell... I have most certainly fucked any chance I ever had of escaping to Venezuela! Damn!
Stay cool, fuckers.
Cheers,
Kade
Link to actual article, riddled with critique-free political-correctness.